A Lesson in Discovery: Find Your Vibe
Contrary to popular belief, opposites do not always attract. Evidence suggests we're actually drawn to people who are like-minded.
The good news is that in the past 20 years, the Internet has enabled us to become hyperconnected. From clubs to activities to sports teams to study groups, we can use the web to find just about anything, including the "tribe that fits our vibe"–our lifestyle. Have you discovered the tribe for your vibe?
The concept of the importance of finding your vibe became evident to me as I reflected on my recent trip to Europe. As part of the trip, my wife Christy and I spent four days in Baleal, Portugal, just northwest of Lisbon on the Atlantic Coast. This beachside town is a haven for professional surfers. A few kilometers north of it is Nazaré, home of the famous 100-foot wave.
  To find your vibe, be intentional and reflective, thinking about what speaks to your heart and soul, as well as the lifestyle you want to live.
I knew Baleal was known for its surfing, as many of the world's best surfers live there year-round. What I found, however, was a town built around expats from around the world who sought a specific "vibe" that was built on more than just surfing.
We met people from South America, North America, and Europe who all sought a lifestyle that was at a slower and more personable pace. People weren't on their cell phones all the time or watching television constantly. In fact, I don't remember seeing a television in any of the restaurants we visited or the rooms we stayed in.
Rather than screen time, morning in Baleal started with meals together and conversations on a variety of topics, from surfing to geopolitics to culture. Days were spent walking the coast, enjoying the water, and talking with others. And then in the evening, everyone headed to the cliffs or the beach to watch the sunset. It made sense that this laid-back community's members ended their day this way. Afterall, studies show that the simple act of appreciating a beautiful sunset can enrich your life.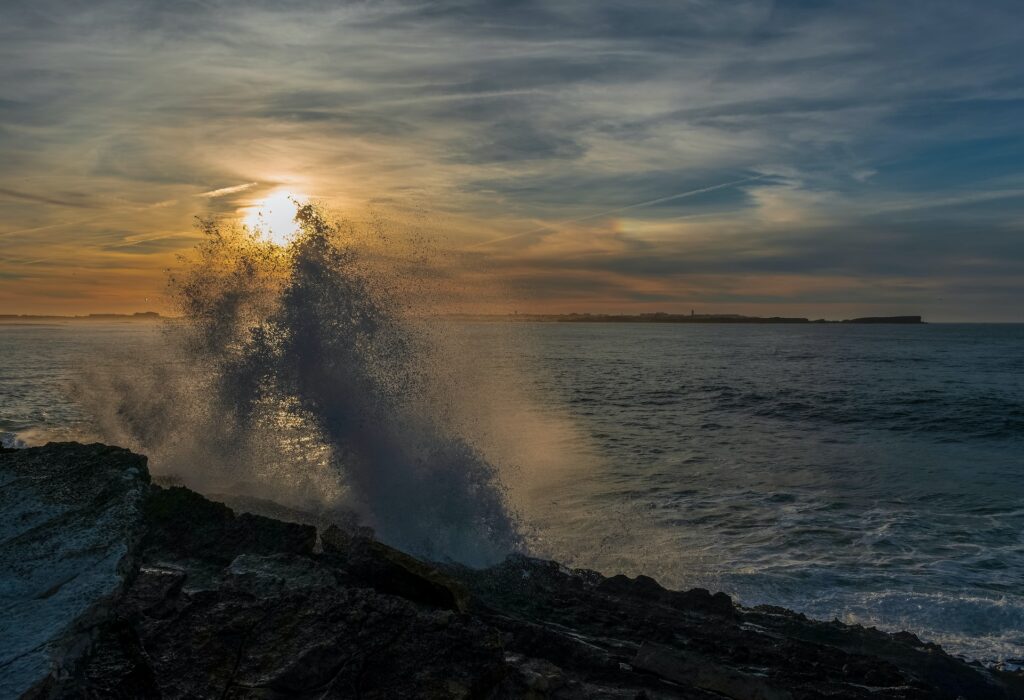 Over the past few years, my wife and I have been thinking about "our vibe" as we travel. Since we have become empty nesters, we have traveled the United States, exploring towns and meeting people who have enriched our lives. Europe always broadens our perspectives, with its distinctive villages and cities. It helped us further clarify what we see as our own vibe. As tourists, we see that outer layer of what a place wants you to see, while immersion enables you to "feel" its tribe. As people become more mobile and choose to either move or live part-time in new locations, their intent of being a tourist or a tribal member impacts the direction of that place. Mobility is a world-changing tool, but it's the intent of the person that determines how that tool affects them and the places they visit.
Follow These Steps to Identify Your Vibe
Have you found your vibe? If so, good for you! Enjoy every moment and protect it.
If you haven't, I encourage you to be open and seek it. Be intentional and reflective, thinking about what speaks to your heart and soul, as well as the lifestyle you want to live. Our time on this planet is short, and how we use it is on us to determine.
If you're unsure how to identify your vibe, here are some initial steps that I use in my coaching practice that can help:
Carve out some time and take a piece of paper to write down a list of things you love and don't love. See my 80/20 PowerPlay™ to guide you through this exercise.
Write down a list of hobbies (lifestyle) and/or achievements (bucket list) you would like to complete in your future. This could be anything from surfing or hiking a mountain to visiting the Louvre.
Reflect on how you want your future week or day to be– from the moment you wake up to the moment you go to sleep. Think about how you would spend your time. I find that creating scenarios of what my day or week will look like helps my thinking of what my future lifestyle looks like. For example, one goal I have for my future is to own property in an area where I can walk out my front door and go hiking.
Create a list of places that you would like to visit for either your bucket list items, or because you could see yourself living there. A great site I have found to help in this search is niche.com.
Start scheduling trips–whether it is a weekend or a one- to two-week immersion of a location. For each trip, consider what you hope to gain from it and then reflect after the trip on how it met those intentions. If you're considering visiting a place to eventually relocate to, be sure to spend time there during its least-favorable times, i.e., bad weather months.
Review and update your list until you narrow down the ideal place or places you seek.
Whether it's in your own backyard or on the other side of the world, your vibe is waiting for you. In the meantime, time is your most precious resource. What step can you take today to create more time to do what you love?
What's Next
What can we learn from these reflections? Watch for future articles addressing the importance of mass transportation, innovation and inertia, and the benefits of a slower rhythm.
For more inspiration, read my blog, What Europeans Taught Me About Learning & Development.